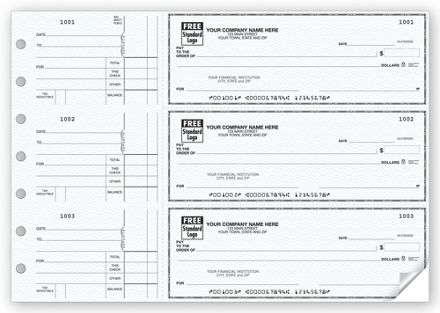 3-On-A-Page Checks
Best-selling side tear business checks simplify recordkeeping for all kinds of payments..jsSam
3장 페이지 링바인더용첵북
Regular price $150.00 $125.00 Sale
MPJS53220N-100Sheets
*Refresh if no change by the new quantity.
*3-On-A-Page Letter Sized Checks
*3장페이지 첵북 7공 링바인더용 

*Size... 12 15/16 x 9

*Best-selling side tear business checks simplify recordkeeping for all kinds of payments!

*These popular 3-to-a-page binder checks help thousands of businesses pay & track expenses easily!
*Just copy check details to handy side tear vouchers for a permanent transaction record you can take anywhere.

ADDITIONAL FEATURES AND BENEFITS

..2-part option provides convenient duplicate checks.
..Additional customization options include imprinting your custom logo.
..Additional customization options include premium check color for an extra charge. Custom logo also available.
..All orders go through proprietary screening to prevent unauthorized orders.
..Binder checks feature a classic end-stub design, with side tear vouchers punched to fit a 7-ring binder (54255N) sold separately.
..Free personalization includes your business imprint plus choice of standard check color, typeface & standard business logo.
..Manual business checks feature built-in security trusted by 7,000 financial institutions nationwide, including chemically sensitive paper, microprint border, invisible fluorescent fibers, erasure protection, security screen & warning box.
..Side tear checks are perforated for easy check detachment, leaving a permanent transaction record.